YK-11 SARM – 10MG/ML – 30ML/60ML BOTTLE
YK-11 SARM is sold for laboratory research use only. Terms of sale apply. Not for human consumption, nor medical, veterinary, or household uses. Please familiarize yourself with our Terms & Conditions prior to ordering.
YK-11
YK-11 is a synthetic steroidal selective androgen receptor modulator (SARM).[1][2] It is a gene-selective partial agonist of the androgen receptor (AR) and does not induce the physical interaction between the NTD/AF1 and LBD/AF2 (known as the N/C interaction), which is required for full transactivation of the AR.[1][2] The drug has anabolic activity in vitro in C2C12 myoblasts and shows greater potency than dihydrotestosterone (DHT) in this regard.[2] It has been investigated as a potential treatment for sepsis-induced muscle wasting in animal studies.[3]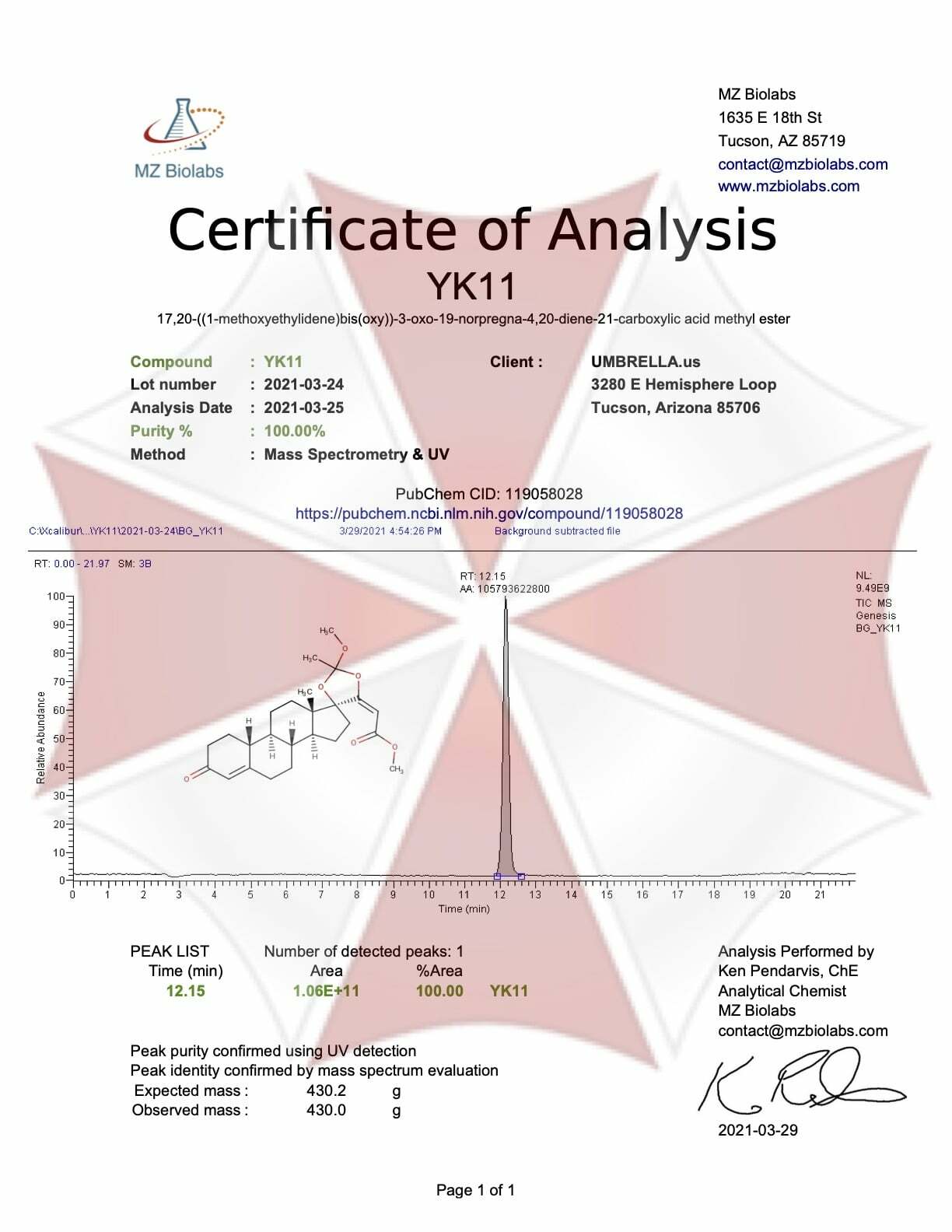 *The information herein is for educational and informational purposes only. THIS PRODUCT IS FOR RESEARCH USE ONLY. For use in animal studies, all research must be conducted with oversight from the appropriate Institutional Animal Care and Use Committee (IACUC) following the guidelines of the Animal Welfare Act (AWA).
Additional information
| | |
| --- | --- |
| Weight | 4 oz |
| Dimensions | 3 × 3 × 5 in |
| Formula Option | |
| CAS Number‎ | |
| PubChem CID | |
| ChemSpider ID | |
| Molar Mass | 430.541 g·mol−1 |
| Molecular Formula | C25H34O6 |
| Size | |